Product Description
Why we need compressed air filter?
Air purification is essential for any Air Compressor for many reasons. Providing your pneumatic tools with clean air will extend their lifespan significantly.
When you use a compressor, every cubic foot of air that passes through contains millions of foreign particles, all of which can collect and damage or inhibit your tools. These particles include water droplets, oils, dirt, dust, bacteria and, potentially, pieces of heavy metals, such as lead, mercury and cadmium.
If the air passes through unfiltered, it can cause contamination of the control valves, swell the protective seals and cause premature wear, all potentially leading to equipment failure and increase repaired cost.
By implementing the proper filtration system for protection and purification, you can reduce machine downtime and overall cost, as well as limit the amount of necessary maintenance, repair and energy use. But you also need to maintain the filters for the best results, as clogged or worn filters can cause a significant pressure drop, making your compressor less effective.
Features & Benefits
1. The new dual-level design makes it easier for users to observe the condensate discharge inside the filter and judge whether the drain is blocked;
2. Parallel design, reducing the time of installation and paralleling;
3. No screw design, easy to replace the filter element;
4. The material of the sodium borosilicate glass fiber filter element ensures high-efficiency filtering effect and meets the ISO8573.1-2010 standard;
5. The shell has a service life of 15 years, and the filter element has 6000-8000 hours of filtration level except ACS;
6. Wall buckle design, easy to install on the wall.
Guaranteed Quality
All
YUKA series
Compressed Air Filters have TWO GUARANTEES.
The first
guarantee
is a
filter element PF/AO/AA/AX grade with 6000-8000 hours serve life. ACS/AR/AAR grade with 2000-3000 hours.
This ensures that the solid particle, oil aerosol and vapor content selected conforms to the ISO 8573.1 international standard.
The second guarantees the compressed air filter housing for fifteen years under recommended operating conditions.
International test and measurement standard ISO12500
>ISO 12500 has made clear a general test and definition method for the compressed air filter manufacturers. The main performance
parameters are the air inlet oil content and particles size distribution of the solid particles.
>ISO12500-1 specifies the test requirements for the filtration
performance of oil aerosol in the coalescing filter.
>ISO12500-2 specifies the test requirements of adsorption filters for the removal performance of steam adsorption.
>ISO12500-3 specifies the requirements for removal of particulate matter from solid pullutants.
Product are test with the international advanced testing equipment based on standard
ISO12500
, Which is equivalent to the standard
I
SO8573.1-2010
quality standard, and provide filter performance test report.
Filtration Grade

PF

AO

AA

AX

ACS

AR

AAR

Particle removal (ISO12500-3)

5μm

1μm

0.01μm

0.01μm

-

1μm

0.01μm

Outlet oil aerosol concentr

ation

(ISO

12500-1)

5mg/m³

0.6mg/m³

<0.01mg/m³

<0.001mg/m³

<0.004mg/m³

-

-

Filtration performance of Particle (ISO12500

-3)

-

99.999+%

99.999+%

99.999+%

99.999+%

99.999+%

99.999+%

Filtration performance of oil (ISO12

500-1)

50%

80+%

99.9+%

99.99+%

-

-

-

Element sp

a

nlife

6000 hours

6000 hours

6000 hours

6000 hours

2000-3000 hours

4000-6000 hours

4000-6000 hours

Filtration Ty

pe

Coalescence

Coalescence

Coalescence

Coalescence

Adsorption

Coalescence

Coalescence

Airflow direction

From inside to outside

From outside to inside
Technical Specification
The flow rate below is the treatment capacity of compressed air under rated working pressure 7bar g(100psi g).
For the application in other working pressure, please refer to the correction factors.
Model

Pipe siz

e

Flow rate

s

Dimension (mm)

L/S

m³

/min

scfm

W(Wid

th

)

D(De

pt

h)

H(Heig

ht)

A

B

C(cl

ea

rance for housing)

HG017

RC1/2"

16.7

1.0

35.3

92

83

265

-

-

-

HG025

RC3/4"

25

1.5

53

92

83

265

-

-

-

HG030

RC1/2"

30

1.8

63.6

92

83

285

17.5

193

158

HG035

RC3/4"

33.3

2

70.6

92

83

285

17.5

193

158

HG058

R3/4"

46.7

2.8

98.9

132

120

393.5

24.4

257.6

195

HG068

RC1"

60

3.6

127.1

132

93.3

393.5

24.4

257.6

195

HG080

RC1"

80

4.8

169.5

132

119.6

502

24.4

356.2

300

HG145

RC1"

120

7.2

254.2

132

19.6

502

24.4

356.2

300

Technical requirements

Maximum operating pressure: 10 barg

Maximum operating temperature: 80°C

Minimum operating temperature:1.5°C
Pressu

r

e

B

arg

1

2

3

4

5

6

7

8

9

10

11

12

13

14

15

16

Psig

15

29

44

59

73

87

100

116

131

145

160

174

189

203

219

232

Correction factor

0.38

0.53

0.65

0.76

0.85

0.93

1.00

1.07

1.13

1.19

1.23

1.31

1.36

1.41

1.46

1.51
How to choose right filter for Your Air compressor System?
When you're working with air compressors, air purification and filtration is an critical part of maintenance. Compressed air filters play an important role in your industrial air compressor system. Choosing the right filter not only increases the efficiency of your unit, but it can also reduce energy costs and protect your employees from harmful chemicals and particulates.
However, does all air filter work for your compressed air system? Well it is depending on your working conditions, the project you're completing and how often you use your equipment, you'll need to make an precise choice. This guide will detail how air compressor filters work, why they're important, what type of air compressor filter to buy and when you should replace it.
①Assess the requirements of your application. Different industry require different solution.

②What type of filtration is needed? Coalecent filter material removes solid and liquied contaminants from gas streams. Particulate filter media removes solid from gas streams. Absorber media removes hydrocarb

on vapors from gas streams.

③Any specific

micron of filtration performance you required?

④What are the working conditions of your application? Mainly criteria of consider : Flow, working pressure, temperature,pressure loss,material of structure (stainless steel, aluminum alloy, mild steel, carbon steel)

⑤Filter flow rate from how much SCFM? Pressure drop should be less than **bar? For saving the cost and protect environmen

t.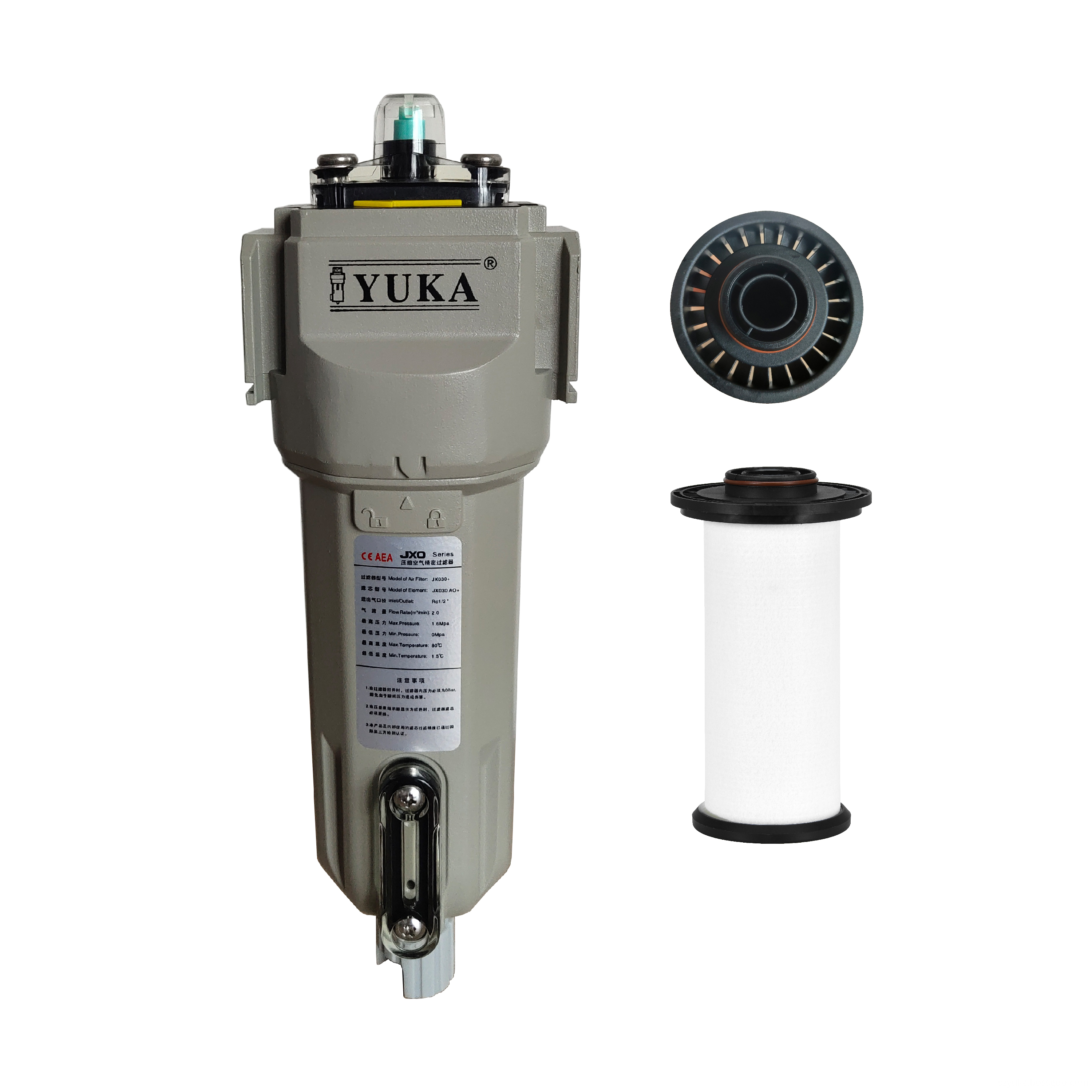 Hongrijia Depurate Facility Science & Technology Co.,Ltd.
Hongrijia Depurate Facility Science & Technology Co., Ltd., formerly known as Youjia Hardware Accessories Factory, was founded by Mr. Liu Yiwu in 1998. It currently has its own brand YUKA, which is homophonic with Youjia. The ground means that Youjia & YUKA purifies and stands upright. The company is headquartered in Pingshan, Shenzhen, with branches in India and Mexico, and branches in Huizhou and Tianjin in China.
The company specializes in R&D, production and sales of refrigerated dryers, adsorption dryers, air separation equipment, and precision filters for compressed air pipelines. It has been recognized as a national high-tech enterprise for 3 consecutive years, and has obtained a number of national invention patents, utility model patents and design patents. The first company to successfully die-cast the shell of a compressed air filter with a flow rate of 48m³/min at one time. The filtration particle precision of the product reaches 0.01μm, the filtration oil content reaches 0.001PPM, and the filtration efficiency reaches 99.999%. It has obtained EU safety CE certification and British AEA The filtration accuracy test report completely broke the situation that the compressed air purification industry was monopolized by foreign giants in China, and successfully established long-term strategic cooperative relations with many international first-line brand Air Compressor manufacturers.
The products have been widely used in defense and military industry, semiconductor, optoelectronics, petroleum, chemical industry, metallurgy, electric power, food, machinery, electronics, medicine, light industry and textile industries that require compressed air purification. Shenzhen Hongrijia YUKA purification leads the technological revolution in the field of compressed air purification with professional technology.
Our Mission
Make contribution to the development of the world science & technology & human health.
Our Value
Providing quality products proves the value of existence.
Our Vision
With professional technology to create a glory century enterprises.
YUKA always adheres to quality as the core, and continues to provide customers with high-quality pre-sales, sales and after-sales services, and provides clean, dry, high-quality compressed air for industrial applications, reduces energy consumption, saves production costs, and improves product qualification rate.
Company Name: Hongrijia Depurate Facility Science & Technology Co.,Ltd.
Representative: Liu Bai Fan
Product/Service: Compressed Air Dryer , Compressed Air Filter , Water Gas Separator , Condensate Auto Drain , Air Filter Element , Differential Pressure Gauge
Capital (Million US $): US$ 5 Millions
Year Established: 1998
Total Annual Sales Volume (Million US $): US$50 Million - US$100 Million
Export Percentage: 21% - 30%
Total Annual Purchase Volume (Million US $): US$10 Million - US$50 Million
No. of Production Lines: 10
No. of R&D Staff: 5 -10 People
No. of QC Staff: 5 -10 People
OEM Services Provided: yes
Factory Size (Sq.meters): 10,000-30,000 square meters
Factory Location: 6th Floor, Block H, No. 8, Qinglan 1st Road, Pingshan District, Shenzhen
Contact Person: Ms. YUKA
Tel: +86-0755-28686438